Our Capabilities
Vaughan's – One of the Most Versatile Industrial Forging and Fabrication
Companies in the World
Tongs
Vaughan's (Hope Works) is one of the more serious tong makers in the world.
We manufacture Tongs for a wide range of applications – Lifting Tongs for Health and Safety – Furnace Tongs All Sizes – Blacksmith and Farrier Tongs – Special Bespoke Tongs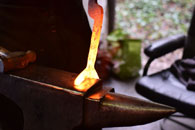 Foundry Supplies
Foundry supplies, Tools and equipment for Foundries, Blacksmiths & Tinsmiths – Forgings and Fabrications. We supply worldwide!


Metal Fabrication
We are able to offer a bespoke service to meet customer's specific requirements. Manufacturing for you in small or large quantities using best methods for quality and cost solutions.



Welding
We offer MIG & TIG Welding – including on site welding.



Plasma Cutter
Computer controlled profile burner capable of cutting material up to 100mm thick. Bed size of 3000mm x 2000mm also with a plasma arc attachment capable of cutting material with a max thickness of 6mm




Guillotine
Pearson guillotine with a maximum cut of 2500mm long and cutting thicknesses from 1.5mm up to 10mm



CNC Tube Bending
Bend up to 10mm dia solid bar & mild steel tube with a max o/side dia of 35mm & a wall thickness of 1.5mm. We currently support dies for the bending of 10mm,12.7mm,6mm,19mm, 22mm,25mm&35mm o/side dia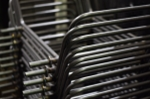 CNC Press Brake Facilities

Amada press brake: bending pressure of 100 tons and bend length of 3 meters with a throat depth of 420mm. The maximum capacity bend is 5mm thick at 3000mm long with current punch & die capacities
"Vaughans (Hope Works) is one of the more serious tong makers in the world.
They make a vast range of low-carbon steel tongs in every conceivable configuration"
ANVIL Magazine (USA) Volume XIX Number 9